– Upcoming Events –
Memphis Kennel Club Scent Work Trial
Sept 30 – Oct 1, 2023
ENTRIES OPEN: August 23, 2023 – 8am CT
ENTRIES CLOSE: September 13, 2023 – 6pm CT
Trials Starts at 8am CT
Trials will run concurrently
Novice, Advanced, Excellent, Master & Detective
 PREMIUM:
Download Premium List
EVENT LOCATION:
Bark N Bray Ranch
8391 Pleasant Ridge Rd
Arlington, TN 38002
---
All Breed Dog Show
October 11-15, 2023
Save the Date!  Days of Shows!
Lebanon, TN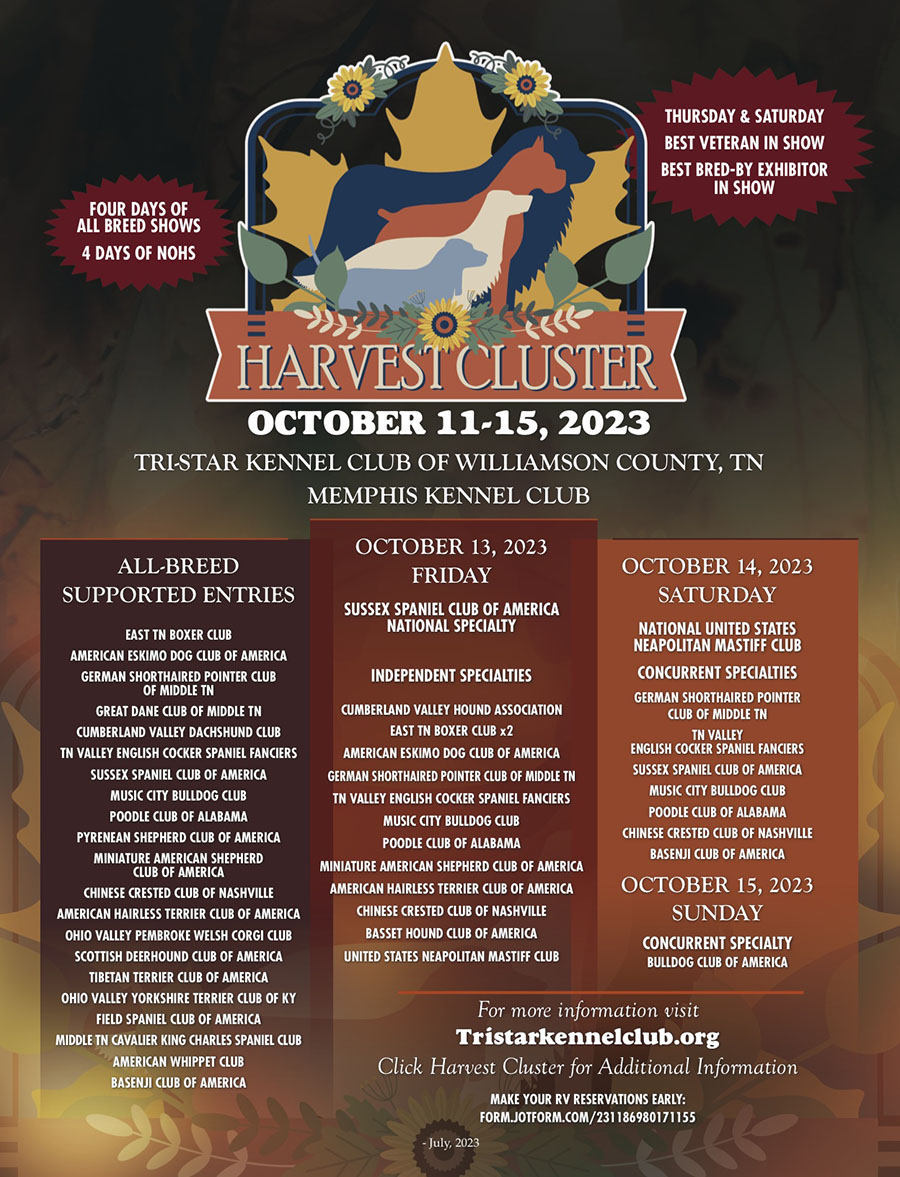 ---
Memphis Kennel Club Scent Work Trial
Dec 2-3, 2023
ENTRIES OPEN: October 25, 2023 – 8am CT
ENTRIES CLOSE: November 15, 2023 – 6pm CT
Trials Starts at 8am CT
Trials will run concurrently
Novice, Advanced, Excellent, Master & Detective
 PREMIUM:
Download Premium List
EVENT LOCATION:
Nesbit Farm
99 East Road
Ecru, MS 38841
---
Are you interested in joining the Memphis Kennel Club?
— MONTHLY MEETING —
Next Meeting is April 17, 2023
In-person meeting at 7:30pm
Germantown United Methodist Church
2331 S Germantown Rd, Germantown, TN 38138
Enter on West St Under the Welcome Awning.
Click here for map
We meet the Third Monday each month.
General Meeting starts at 7:30 pm.
Click here to download Membership Application or Contact us for more information

We ask that you attend 3 meetings prior to joining.
---
About Memphis Kennel Club
Memphis Kennel Club is a not-for-profit organization dedicated to the promotion of purebred dogs and well-being of all canine citizens in Memphis and the Mid-South.
Memphis Kennel Club is an all breed kennel club. Members are composed of breeders, exhibitors and conscientious pet owners with the following goals in mind:
To further the advancement of interest in purebred dogs
To conduct sanctioned matches and dog shows under the authority of The American Kennel Club (AKC rules and procedures)
To advance knowledge within the community in general on dog care and training as well as improve breeding and management of purebred dogs
We have a variety of dog-loving members who are involved in many different aspects of dogs.  Memphis Kennel Club hosts dog shows, puppy training classes and educational seminars throughout the year. We have guest programs at our monthly meetings that are both educational and entertaining.
Our Club history dates back to 1874. Read more about our history.
Memphis Kennel Club members offer breeder referrals to assist those who may be looking for a puppy to insure that they find a responsible, reputable breeder. We also offer education and advice to those who may be new to showing dogs and are looking for information on how to get started. Our club has many knowledgeable members who are willing and able to help a newcomer become familiar with the sport of showing dogs.
Interested in joining Memphis Kennel Club? Contact us for more information or download Membership Application.